Lots of people have query in their mind, where should I place my phone?
So today, we're going to help you know which is the best place for your cell phone holder according to your need. We will also suggest you the best mount type for that place.
We have spent many months using different car mounts, in different cars and here are five areas where you can mount your smartphone safely:
5 safest places to put your smartphone while driving
Dashboard

Windshield

Air Vent/CD-Slot

Steering Wheel

Cup Holder
We are starting from our favorite location to the last location which is our least preferred.
1.

Dashboard Mount
Is Dashboard is the best place to mount your mobile phone in your car?
This is a commonly used place where almost everyone likes to mount their smartphones for good reasons. In this position you can easily operate your cell phone such as you can check screen, make a call and answer it, look at the GPS maps.
If you are looking for a phone holder for this location, we would suggest you to look for a longer or expandable arm so that it gets close to you and you can operate it easily. Like these Magnetic Dashboard phone holders.
---
2.

Windshield Mount
You must have seen the windshield mobile holder mounted on car many times, because it is also the most common and favourite place where people like to mount.
These mounts are attached to the windshield via suction-cups / or adhesives and if you do not choose the best holder, this will be a waste of money as they can fall/loose apart through the windshield.
They are affixed to the windshield with the help of adhesive glue, usually do not last forever.
Check out these best windshield holder and also the One tip that attach it forever and at last when your car jumps through the bumps and you make a sharp turn, phone hits the glass.
There are two types of places on the windshield where you can mount it: Driver side window and Rear view mirror, the driver side window is the best and safest place where you can mount the holder.
---
3.

Air Vent/CD-Mount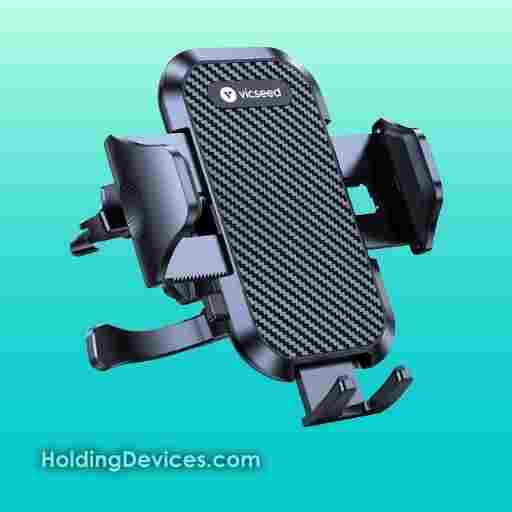 The vent / CD mount is best for those who do not need to keep their devices in their cars at all times. If you mount your cell phone at Vent/CD Mount for temporary purpose then this is for you.
Here you need to make sure that the mount has a joint that allows you to turn your smartphone towards you.
Because it is over the air vent that blocks an actual vent, hot air can be an issue it actually can blast your cell phone if you put it for long time. Note: This is an issue here as there is snow and cold weather 4-5 months a year, so hot air through the vent is very important for us.
But it may not be the issue of a place where the weather is pleasant. Check this If you want to look for best air vent mount, magnetic air vent holder, CD-Mount.
---
4.

Steering Wheel
This is not the appropriate place to mount the cell phone holder; because of the steering wheel it rotates all the time. There is a lot of problem while arriving at GPS location, while making calls, answering and all basic activities.
You should always be conscious about the angle of the cell phone to use it. While driving, it can be dangerous too.
Steering wheel mounts can work for larger vehicles such as trucks because they run on a straight-line road highway or low traffic area.
Steering Wheel Mount used in this review: Best steering wheel mounts.
---
5.

Cup Holder
Mounting a cup holder may be your worst holder experience.The cup holder mount gets in the way of the gear sifter which can be a headache and you can face issues when changing the gear.
Cup holder mounts might work for larger vehicles like Trucks, Semi-Trucks. This is the worst place where you can mount your cell phone and the cup holders are very useful for storing cups only.
Have any questions about the safest place to mount phone in car? Please comment them below.
---
The Conclusion
Above i have explained 5 places where you can easily mount your smartphone without being distracted while driving so that you can easily drive without any kind of distractions.
Also, these places are very important to mount the smartphone on the vehicle.
Because, you can easily see the screen and operate without being distracted.
So that is it for this post, if you still have any questions regarding this queries then comment down below or contact us, and i will try to answer it quickly.